"Bizarre travel plans are dancing lessons from God." – Kurt Vonnegut Jr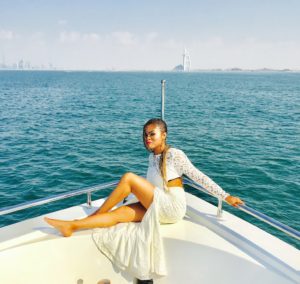 Sunglazed & Sailing towards the Burj Al Arab
.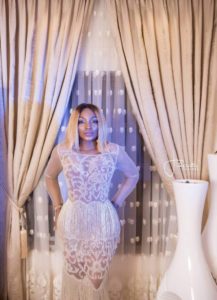 #Vadersfabulous40 #VaderstakesDubai

I have played lip service to being that person that works hard and plays harder. So when the opportunity to go to Dubai for a two day nonstop luxury party came by, I said yes to the life I have always wanted to live, and joined my friend Evhade who we fondly call Vaders for her Dubai takeover to celebrate her 40th Birthday.
2017 will have to go down as the year I worked the hardest. I mean college was kinda hard, you know getting an engineering degree, while being a student leader for multiple organizations and a single mom was definitely no walk in the park but being a single mom of three kids including two teenager; and having a demanding job that involves about two flights a week and 60 hour work-weeks have this body beat. Most of the year, I chose hanging out with the kids and resting, over playing. Yeah I know, I am getting old!
To my credit I play a little harder than most of my friends here in the States, but in my heart of hearts, I know I am more boring than I'd like to be, and many a Fridays, I tell myself I must go out tonight only to end up cuddling up with the boys after movie night, then staying-in Saturday and Sundays as well. So by October, I had written off 2017 as a year of Hard Work and no Play, and was already planning to start with Play in 2018. I had signed up two friends to accompany me on a Dubai trip in January of 2018 for my 39th Birthday and I was recruiting others.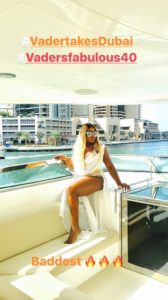 Vaders aboard Majesty 101
This was how things were when my friend in Lagos whom I hadn't seen since 2013 invited me to her 40th Birthday weekend celebration in Dubai taking place November 16th to 19th. I took one look at the Party itinerary and without even consulting my bank account and budget, I booked my hotel and started looking at tickets. I mean this had to be God telling me that I deserved to PLAY in 2017.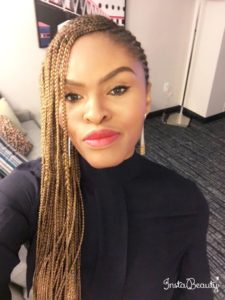 Leaving for the airport that morning like 🙂
Fast-forward to three weeks later, after a hectic work week that started on a Sunday, I flew the 12 + hours from New York to Dubai, as my second flight for the day, arriving Dubai and heading straight for the Gold Souq, thanks to my dearest friend, Emi who picked me up from the airport. Tired and jetlagged, I hunted for the perfect pair of gold earrings to no avail, and ended up leaving the gold souq after searching for 2 hours with only a plain gold chain; though I did see very beautiful gold pieces that were way above my budget and thankfully too rich for my current lifestyle. I had fun taking a picture with a dress made of gold and having a total stranger ask to take a picture with me! Celebrity status☺.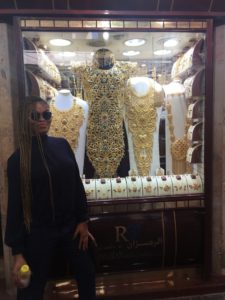 God dress, Dubai Gold Souk

My friend and I drove to Al Ain, in Abu Dhabi Emirate to see his family and I got a little bit of Cultural immersion. We had luquaimat (the jury is still out on the name) Luqaimat vs Loukoumades Arabic flatbread with hummus, Fatoush, roasted chicken and some fruits for dinner and went to watch the Emiratis (as the locals are called) typical weekend night entertainment which included the Yowla traditional dance performance by the men wielding dummy guns, swords and sticks. [Insert Dance Pictures] Our next stop was to get Henna tattoos and then on to the local Gold Souq, again in search of that perfect gold earrings. By 10 pm, I had spent so much time with Gold, I looked like gold, and thankfully was the proud owner of not only a pair of perfect gold earrings, but bracelets to go with it.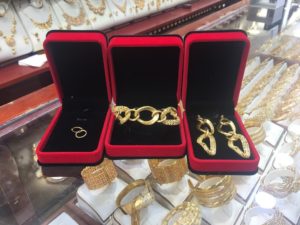 Gold earrings and bracelet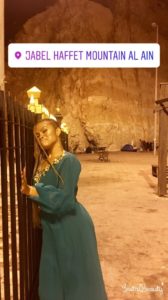 Looking into Oman
My cultural immersion that night concluded with a ride to Jebel Hafeet, which translates as Empty Mountain. At 1, 249 m (4, 098 ft.) it is the second tallest Mountain in the UAE, but with a Castle, and a hotel perched at the tip of the mountain, a radar station, and a three lane road driving up, it is the most popular and hosts the finishing line of the annual Abudhabi Tour cycling competition. The tallest mountain in the UAE though is Jabel Jais at 1, 925 m (6,315ft) in the northern Emirate of Ras Al Khaimah.
Up at the summit of Jebel Hafeet, is a picturesque view of the entire city of Al Ain, and an overlook into the deserts of Oman.
The Emiratis came out to play with the Ferraris and power bikes which they sped up and down the mountain road like little children with beloved toys. I immensely enjoyed my cultural immersion and did not mind that I missed an unplanned pre-party that included a limo ride to the One Africa Music Fest. in Dubai.
After a few hours of shut-eye, I was up and ready the following morning, to get with my PLAY.
Playground #1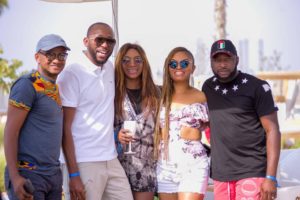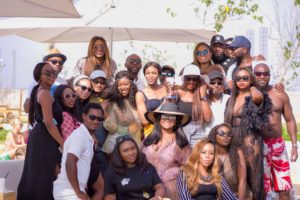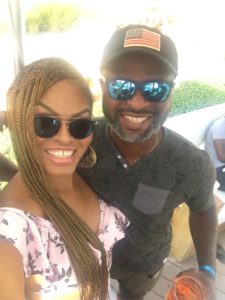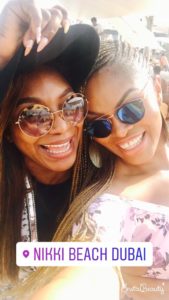 Nikki beach is a private beach located on the waterfront of Pearl Jumeirah. The beauty of the blue waters of the Arabian Sea, and the stunning views from every corner of the property was quickly lost to me as I immersed myself in fine liquor and dancing to world tunes at the pool side party that had people from five different continents. I think the fact that I met and quickly fell in love with the only eligible bachelor at the party is to blame for my lack of awesome pictures of the amazing storybook view of playground #1. Unfortunately, I got to this playground late, partied way too hard, and in a blur, the limo was back to take us to the hotel to get ready for Party #2.
Play Ground #2
The restaurant at Bab Al Shams Desert Resort & Spa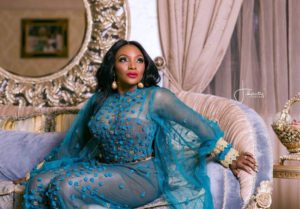 Bab Al Shams is a luxury retreat situated in the heart of the desert and nestled in the Dunes of Dubai. After keeping the limo waiting for almost two hours we took the one hour ride from the heart of Dubai in style. Dressed in local garb of Konduras and Abayas, we arrived at the AL Hadheerah restaurant for a timeless Arabian Experience under the stars, and enjoyed extensive and colorful live entertainment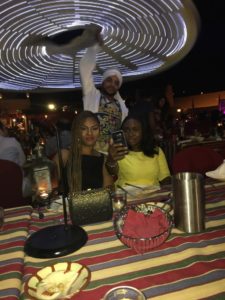 that was sometimes brought to the tables, and authentic Middle Eastern dishes of roasted lamb, chicken, beef, prawns, rice cooked in the open at fourteen live cooking stations. Dinner was topped off with chocolate cake and fresh fruit desserts. I have a thing for birthday songs in restaurants when I visit other countries and the Arabian birthday song did not disappoint.
Playground #3
Super Yacht Majesty 101. Dubai Marina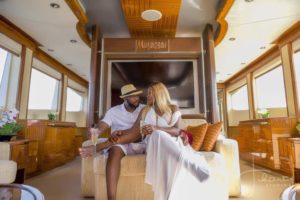 For Party #3 we headed to the Dubai Marina to board the biggest yacht docked at the very end of the strip. Stretched out at 101ft, Majesty 101 has three decks, a hot tub, a living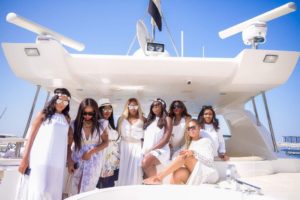 area, a dining area, three fully furnished bedrooms and a full kitchen. This was a big ass luxury three bedroom hotel suite on water, or better yet a party duplex on water. This all white party was my favorite play of all and I will let the pictures and videos tell the story. One story you won't get from the pictures is that I was sleeping peacefully atop a couch in the living room when the boat docked☺. Yeah! It's been ages this mama partied hard!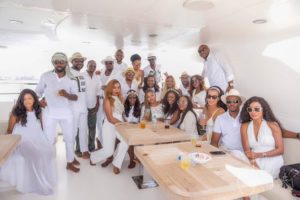 All white party aboard Majesty 101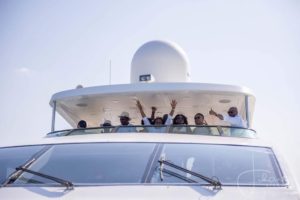 Playground #4
Cavalli Club Dubai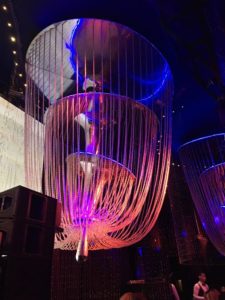 Crystal Chandelier at the Cavalli club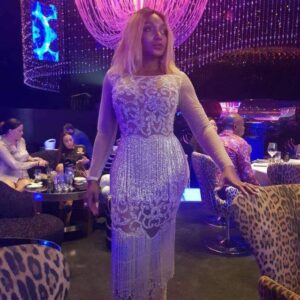 Cavalli Club Dubai is a multiple award winning luxury venue located in the Fairmont Hotel Dubai. Inspired by and launched in collaboration with the celebrated designer Roberto Cavalli, the lavish space beneath a wealth of Swarovski crystals is the distillation of all things fabulous. Dinner was exquisite Italian and world fusion cuisine that was as beautiful as it was yummy.
At midnight the real party started with a birthday song that involved fireworks Davido's "FIA" blasting through the club speakers. Vaders truly took over Dubai that night as we danced away the night amidst awe inspiring beauty everywhere. Listen! when I tell you, you haven't been to a luxury club until you go

to the Cavalli Club Dubai, please believe me! Best Bathroom Selfie I ever took with all gold "erything. Tired and Sleepy we toasted my Shero and received mighty thanks for being part of her fairytale fabulous 40th Birthday celebration.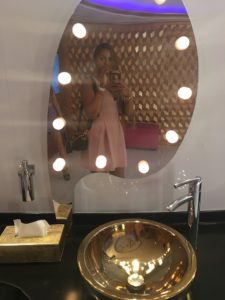 All in all, I am thankful I got this opportunity to really PLAY and although I was a part of the medical emergency on my 14 + hour return flight, coupled with my pocketbook still in recovery, I definitely added a few things to my PLAY book on how to turn 40 and would totally do it again!
Instagram @princessAdaNYC